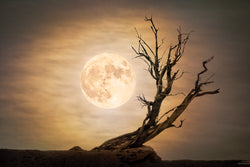 Capitol Reef National Park, Utah - Photography trips very rarely go as planned. We flew into Jackson Hole to photograph the fall colors in the Tetons. The first few days were fantastic, but the weather turned against us, so we decided to call an audible. We left Jackson Hole, and just started driving south with no particular spot in mind. We just kept driving, stopping in  Park City, Capitol Reef National Park, Boulder Mountain, all the way down to Sedona. While passing through Capitol reef, I loved all the gnarly old Juniper trees that scattered the park. The moon had been amazing the night before, and was going to be a harvest moon the following evening, so I decided to look for a juniper tree that would line up with the moon. After looking at hundreds, if not thousands of trees, we finally found this one. It was a relatively small Juniper tree that was hanging out on the edge of a cliff. It appeared that it would line up perfectly with the rising moon. The trick was that I needed to be about 50 yards away from it, and still have it be perfectly aligned with a 400mm lens. Our calculations were mostly correct, I was off by a few degrees, which resulted in me sprinting across the desert floor trying to get the two to align. I originally wanted the tree in front of the moon, but I loved the way the curve of the tree almost wrapped its branches around the warm glow of the moon.

Chromaluxe Metal Prints: These prints represent a new medium in photographic printing. Using a specialty process, we sublimate ink directly into a sheet of light reflective Chromaluxe aluminum. Due to the luminescence of the metal surface, the finished product has a brightness, vibrancy, and a clarity to it that cannot be rivaled with any other printing technique. Chromaluxe prints are so luminous, that they almost appear backlit. In addition to the striking finish, metal prints are guaranteed to last for a century without noticeable fading, are scratch resistant, waterproof, and all come with sleek aluminum hanging hardware on the back of the print for seamless hanging. The final piece will hang an inch and a half away from the wall. Chromaluxe prints represent the best quality prints in the industry and are the perfect modern art piece for any home. 
Paper Prints: All of our paper prints are printed onto Kodak archival papers. This type of print requires matting and framing before it is ready to be hung. 
Finishes: All of our paper prints come on Kodak Metallic fine art papers. Our Chromaluxe metal prints, however, come on two different finishes. Our recommended finish is on the high gloss Chromaluxe. The high gloss will have incredible contrast and depth, however it is prone to reflections if hung directly across from a window. Due to this, we also offer our Chromaluxe prints on a matte finish. The matte finish will have slightly less contrast that the high gloss, but will have zero reflections, and is recommended for areas where windows will cause reflections.