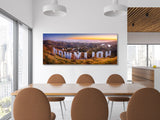 Hollywood, California - The Hollywood sign is one of the most iconic cultural icons in the United States. Since 1923, this iconic sign has overlooked stars rising from obscurity, dreams being made, and the American film industry exploding into the powerhouse it is today. The hike to the sign is no small task. My wife, Gabby, and I, spent several hours hiking through the hot Hollywood hills to reach this location. I wanted to capture the view from the backside of the sign, to illustrate the 'watchful' perspective it has had over Hollywood all these years. This long exposure captures the last vibrant colors of sunset as the lights of Los Angeles in the distance begin to glow. 
Chromaluxe Metal Prints: These prints represent a new medium in photographic printing. Using a specialty process, we sublimate ink directly into a sheet of light reflective Chromaluxe aluminum. Due to the luminescence of the metal surface, the finished product has a brightness, vibrancy, and a clarity to it that cannot be rivaled with any other printing technique. Chromaluxe prints are so luminous, that they almost appear backlit. In addition to the striking finish, metal prints are guaranteed to last for a century without noticeable fading, are scratch resistant, waterproof, and all come with sleek aluminum hanging hardware on the back of the print for seamless hanging. The final piece will hang an inch and a half away from the wall. Chromaluxe prints represent the best quality prints in the industry and are the perfect modern art piece for any home. 
Paper Prints: All of our paper prints are printed onto Kodak archival papers. This type of print requires matting and framing before it is ready to be hung.