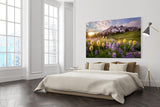 "King of the Truffula Trees"
Mt. Rainier National Park, Washington- Mt. Rainier in the summer might be the most beautiful place in the world. There are more wildflowers on the mountain than I have ever seen in my life. I captured this shot right at sunset, and was amazed at how much these little puffy flowers looked like they were straight out of a Dr. Suess book.
Chromaluxe Metal Prints: These prints represent a new medium in photographic printing. Using a specialty process, we sublimate ink directly into a sheet of light reflective Chromaluxe aluminum. Due to the luminescence of the metal surface, the finished product has a brightness, vibrancy, and a clarity to it that cannot be rivaled with any other printing technique. Chromaluxe prints are so luminous, that they almost appear backlit. In addition to the striking finish, metal prints are guaranteed to last for a century without noticeable fading, are scratch resistant, waterproof, and all come with sleek aluminum hanging hardware on the back of the print for seamless hanging. The final piece will hang an inch and a half away from the wall. Chromaluxe prints represent the best quality prints in the industry and are the perfect modern art piece for any home. 
Paper Prints: All of our paper prints are printed onto Kodak archival papers. This type of print requires matting and framing before it is ready to be hung. 
Finishes: All of our paper prints come on Kodak Metallic fine art papers. Our Chromaluxe metal prints, however, come on two different finishes. Our recommended finish is on the high gloss Chromaluxe. The high gloss will have incredible contrast and depth, however it is prone to reflections if hung directly across from a window. Due to this, we also offer our Chromaluxe prints on a matte finish. The matte finish will have slightly less contrast that the high gloss, but will have zero reflections, and is recommended for areas where windows will cause reflections.