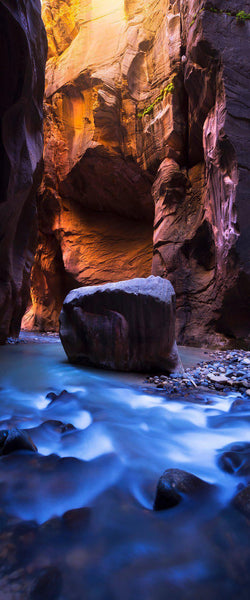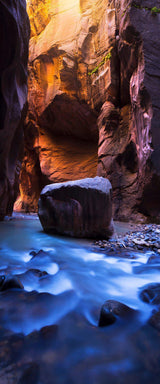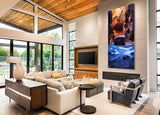 Zion National Park, Utah - The Narrows is one of my favorites hikes of all time. The trail is the river; you wade in the water up to your waist at some points for miles through this incredible canyon. When sunlight hits the top of the canyon, it reflects the orange in the rock to the opposite wall. This effect bounces the light all the way down to the base of the canyon, and creates incredible vivid colors in the deepest parts of the canyon. I particularly love the little strip of bright green ferns clinging to the canyon walls in this image that gave relief from the orange/blue color palette. A long exposure was used to blur the river and capture these vivid colors in this incredible canyon. 
Chromaluxe Metal Prints: These prints represent a new medium in photographic printing. Using a specialty process, we sublimate ink directly into a sheet of light reflective Chromaluxe aluminum. Due to the luminescence of the metal surface, the finished product has a brightness, vibrancy, and a clarity to it that cannot be rivaled with any other printing technique. Chromaluxe prints are so luminous, that they almost appear backlit. In addition to the striking finish, metal prints are guaranteed to last for a century without noticeable fading, are scratch resistant, waterproof, and all come with sleek aluminum hanging hardware on the back of the print for seamless hanging. The final piece will hang an inch and a half away from the wall. Chromaluxe prints represent the best quality prints in the industry and are the perfect modern art piece for any home. 
Paper Prints: All of our paper prints are printed onto Kodak archival papers. This type of print requires matting and framing before it is ready to be hung.