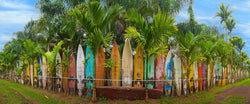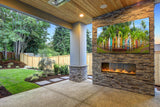 Hawaiian Fine Art Landscape Photograph by Lijah Hanley.
Maui, Hawaii- This is one of my favorite photos from the trip to Maui with my Grandparents, purely because of the memories that I have attached with it. This surfboard fence has become somewhat of a tourist attraction on Maui, but it can only be viewed from the road. Not satisfied with the view from the road, my Grandpa and I waited patiently at at the end of the long driveway that was blocked by a gate, and eventually someone drove out from the house. It turned out to be the owner's daughter, and we asked her if it would be okay to go back and talk with the owner. She responded by saying, "absolutely, but we are not liable if you get attacked by one of the 12 pit bulls....." Then she drove off. We cautiously walked to the back of the property where a quaint house was located, and we were greeted by a very unique man who said his name was Donald Duck.  To my relief, he ended up being very nice, and showed us around the property where he had more than 900 surfboards. We got the chance to talk with him all morning, and even had the pleasure of having breakfast with him. I must say, he was probably the most interesting man I have ever met, and I cannot thank him enough for being so nice as to show us strangers around his property and let me photograph it.
Chromaluxe Metal Prints: These prints represent a new medium in photographic printing. Using a specialty process, we sublimate ink directly into a sheet of light reflective Chromaluxe aluminum. Due to the luminescence of the metal surface, the finished product has a brightness, vibrancy, and a clarity to it that cannot be rivaled with any other printing technique. Chromaluxe prints are so luminous, that they almost appear backlit. In addition to the striking finish, metal prints are guaranteed to last for a century without noticeable fading, are scratch resistant, waterproof, and all come with sleek aluminum hanging hardware on the back of the print for seamless hanging. The final piece will hang an inch and a half away from the wall. Chromaluxe prints represent the best quality prints in the industry and are the perfect modern art piece for any home. 
Paper Prints: All of our paper prints are printed onto Kodak archival papers. This type of print requires matting and framing before it is ready to be hung. 
Finishes: All of our paper prints come on Kodak Metallic fine art papers. Our Chromaluxe metal prints, however, come on two different finishes. Our recommended finish is on the high gloss Chromaluxe. The high gloss will have incredible contrast and depth, however it is prone to reflections if hung directly across from a window. Due to this, we also offer our Chromaluxe prints on a matte finish. The matte finish will have slightly less contrast that the high gloss, but will have zero reflections, and is recommended for areas where windows will cause reflections.